Acupuncture
More and more people are turning to acupuncture as a safe, effective & natural way of optimising health. Acupuncture works by bringing the body into balance, and can help with a wide variety of complaints.

Acupuncture can effectively treat many conditions and often can succeed where western medicine has failed. Well known for its ability to treat pain & other physical ailments, acupuncture is also very successful for increasing fertility & for promoting emotional well-being and health.

Acupuncture originated in China and spread to many countries of the Orient, where it has evolved into varying styles of practice. Acupuncture has been the subject of study, assessment and development for nearly five thousand years.
What can Acupuncture treat?
Many people come for help with specific symptoms or conditions such as anxiety states, arthritis asthma, back pain, circulatory problems, depression, high blood pressure, indeterminate aches and pains, infertility, menstrual problems, migraine, rheumatism, skin conditions or ulcers.

Many others come because they are feeling generally unwell; perhaps the pressures of modern living are building up, or they are suffering from the effects of mental or emotional conflict. Others are seeking a preventative form of treatment which can "nip imbalance in the bud" before the symptoms arise.
What does Acupuncture feel like?
Most people's experience of needles is of those used in injections and blood tests. Acupuncture needles bear little resemblance to these. They are much finer and are solid rather than hollow. When the needle is inserted, the sensation is often described as a tingling or dull ache. During treatments patients commonly experience a heaviness of limbs or a pleasant feeling of relaxation.

The benefits of Acupuncture frequently include more than just relief from a particular condition. Many people find that it can also lead to increased energy levels, better appetite and sleep as well as an enhanced sense of overall being.
Kirsty Garland BA (Hons), Lic. Ac., Acupuncturist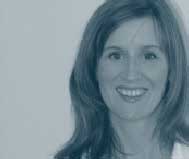 Kirsty gained her Licentiate in Acupuncture (LicAc) after completing a three year, fully accredited, professional degree course in Traditional Acupuncture.
She was awarded her B.A. (Hons) in 2003, from the College of Traditional Acupuncture in affiliation with Oxford Brookes University.
Since qualifying Kirsty's post-graduate studies have included fertility & gynaecology and acupuncture for emotional states.
Kirsty is committed to providing the highest standard of care at affordable costs and is able to help patients with a broad spectrum of illnesses by drawing on skills from a number of healing disciplines.
More more information about Kirsty and acupuncture treatments, please visit
Kirsty's website
.