Chiropody
Chiropody / Podiatry is the branch of medicine that deals with problems relating to the feet. Proper functioning of the feet is essential for the overall functioning of the body and almost all forms of activity, not to mention standing, walking or running.

As a consequence of accident, over activity, faulty posture or footwear, the foot can become painful which in turn can lead to a range of associated problems. Issues can also develop from nail growth leading to in growing toenails or through the development of callouses, corns or bunions.

Chiropodists and Podiatrists specialise in the recognition, assessment, treatment and ongoing care of the foot. An essential member of the Broad Oaks health care team, the Podiatrist has many skills and techniques that help patients eliminate foot pain, gain mobility and maintain healthy feet.
What can Chiropody / Podiatry help?
Chiropody/Podiatry is a medical speciality which focuses on the treatment, management and diagnosis of lower limb and foot injuries and ailments. Advice for and treatments available include:
Nail problems
Ingrown toenail eradication
Removal of corns, callouses, verrucae and warts
Biomechanical problems
Pain in the feet and joints of the foot
Provision of insoles and orthotics
Nail surgery
Athlete's foot and other skin conditions
Vascular and Neurological assessment
Footwear advice
Podiatric Homeopathy and Acupuncture
Cryotherapy
Home Visits for housebound patients
Justine Callaghan F.C.Pod.(S)., MChS., D.PodM., LFHom(Pod)., S.R.Ch., Podiatrist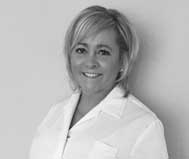 Justine qualified from the Birmingham School of Podiatry in 1989, completed the podiatric surgical course and became a Surgical Fellow in 1994. Justine has since taught clinical chiropody and nail surgery at the Birmingham School.

She is also is a qualified Homeopathic Podiatrist and Podiatric Acupuncturist and has a keen interest in Dermatology and vascular medicine.

Justine has spent her professional career, spanning over 25 years, in private practice. As a highly qualified and experienced Chiropodist / Podiatrist, she provides all manner of foot treatments from verrucae removal to nail surgery.

Having been a part of the Broad Oaks team over 15 years, Justine enjoys the challenges of a busy private practice and uses her broad experience and welcoming manner to put patients at their ease.

Justine lives in Solihull and has two children, Harry and Tom.